Find out about Physiotherapy, what it is, how it can help and how to get in touch with our Stafford Clinic
Physiotherapy is the process of providing manual therapy to help patients that are affected by injury and immobility. The person who performs the exercise is called a Physiotherapist.
Our Stafford Physiotherapists maintain health for people of all ages so if it hurts, then speak to Nicky Snazell and her team of trained therapists - They can take away your pain and discomfort.
Physiotherapists are highly qualified and Physiotherapy is a degree-level profession, so the training and expertise of the therapists is very high.
Three ways Physiotherapists help?
One
Back pain, widely recognised for helping back pain, and shoulder and neck pain. So, if you are suffering then we can help.
Two
Less well-known - are neurological conditions, stroke, multiple sclerosis and Parkinsons'. Not well known for assisting these conditions, but patients can see profound improvements, in health and well-being.
Three
Cardiovascular and respiratory conditions include asthma, chronic obstructive pulmonary disease and rehab after a heart attack or stroke.
 How Do Physiotherapists Treat My Condition?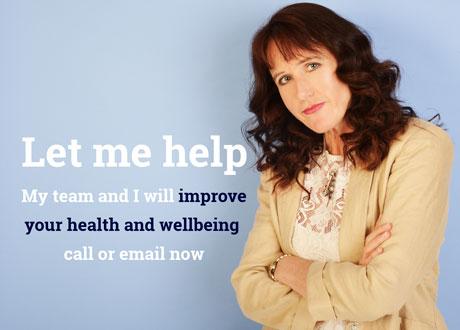 How can a Physiotherapist help me?
Re-ignite your motivation for life.
Feel more attractive and confident.
Move towards a pain-free life.
Give yourself a slimmer, more flexible and active body.
Recover more quickly and more fully following surgery.
At Nicky Snazell's Wellness & Physiotherapy clinic, we focus on neuro and musculoskeletal physiotherapy. Our ultimate goal is to establish your maximum functional independence. Physiotherapists develop a personalised program to move you towards optimum musculoskeletal health. To achieve this, we combine our diagnostic listening skills, with hands-on treatment, supported by our broad range of technology. Physiotherapists prescribe and monitor a lifestyle and exercise program with realistic and attainable goals.
Nicky Snazell's Pain Relief Clinic offers fully qualified physiotherapy to serve Stafford, Rugeley, Cannock and the surrounding areas. To compliment our treatment we can also provide information on healthy lifestyle, weight targets, diet & nutrition.
Why should you consider Pain Relief Clinic?
Apart from being one of the most renowned clinics in the UK, as Stafford Physiotherapists we are perfectly situated to provide physiotherapy to Litchfield, Cannock, Rugeley and Uttoxeter. Our dedicated team enjoy working with our fantastic patients and if you are looking for help, please get in touch using the form on this page or by using the contact form.
A Brief History of Physiotherapy
Physiotherapy's origins date back to 1813 in Sweden for the treatment of gymnasts with massage manipulation and exercise. Physiotherapy as a profession was founded by four nurses in 1894 as the Society or Trained Masseuses. By 1900 it was recognised as a professional organisation and later in 1920 was awarded a royal charter, forming the Chartered Society of Massage and Medical Gymnastics. By 1944 the society became the Chartered Society of Physiotherapy (CSP).
"Physiotherapy is a science-based healthcare profession concerned with human function, movement and maximising potential (CSP)". As a professional body it is regulated by the Chartered Society of Physiotherapy and the Health & Carers Profession Council (HCPC).
As each case is unique, a physiotherapist clinical diagnosis is based upon an assessment of previous medical history, work & lifestyle. It also takes into account psychological, cultural & social factors. Physiotherapy training is comprehensive and physiotherapists' skills are endorsed by GPs. This means that you can trust that you will receive a skilled and informed diagnosis of your problem.
Frequently Asked Questions